A Sims 4 custom content set
This corpo cc sims 4 includes 14 items:
1. Rectangle rocky frame | 2. Square rocky frame  | 3. Round rocky frame | 4. Round room divider(available for all three heights)  | 5. Room divider (available for all three heights) | 6. Wooden panel with golden lines | 7. Marble tiles  | 8. Tileable light and floor lights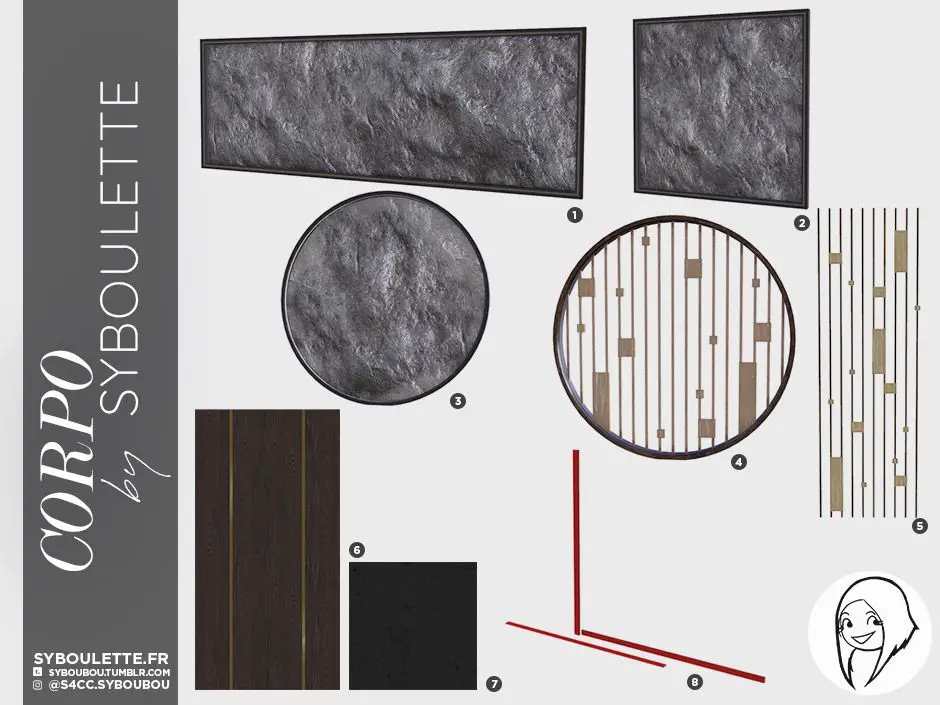 This set is inspired by Cyberpunk 2077 that I recently finished (and loved it !). I really liked the luxurious and futuristic look of the corpo interior buildings and wanted to recreate this over-the-top look with a slightly japanese touch. It contains a wooden wallpaper with golden lines, a marble tiles, some room dividers, rocky frames and minimalist and tileable light lines. Hope you'll like it !
Includes 14 new items
Everything is basegame compatible
Everything is low poly
I recommend changing the light of the lights to fit its color. If you have many, place all the lights, then use the pie menu 'select color and intensity > all room' before placing any other lamp !
/!\ Note that there will be remaining some small artefacts around the edges – that's because of the new cutout rule. You'll see the same cracks around EA windows, and for now there is nothing we can do about it, and the best I can achieve…
Let me know if you encounter any problem with my content.