A Sims 4 custom content set
This kid bedroom cc sims 4 includes 13 items:
1. Creative table  | 2. Separated: Bed frame, custom mattress, bookcase, throw pillows, throw blankets, bed curtains, floor pillows | 3. Dino stuffed toy  | 4. Toys chest (available in simlish version too) | 5. Art frames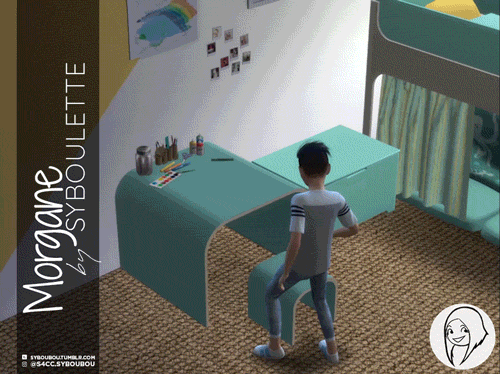 This is a set for kids (child or toddler), with fully functional assorted furnitures. The objects comes in vivid colors or neutral wood to mix and match according to your taste 🙂
Includes 13 different items
All items are basegame compatible and fully functional ! 
All items are low poly and optimized
All written items have simlish version
The custom animated top bunk bed is from PandaSama and need to be downloaded separately. My set includes only recolors. The only default of this item is that it won't be possible to assign the bed to a Sim so you'll have to manually send the kid to bed in order to be used. Another pathfinding bug can occur if you place an object to the left of the stair: that's why I put the opening of the curtain to this side to avoid this.