Hortensia Set
A Sims 4 custom content set
This garden cc set includes 42 items:
1. Oak tree | 2. Elm tree | 3. Willow tree| 4. Acacia tree| 5. Maple Tree| 6. Beech tree| 7. Birch tree | 8. Bush | 9. Weed |10. Spider plant| 11. Plant | 12. 13. Phlox flowers | 14.15.16. Climbing flowers |17.18.19. Small trees | 20. Arbor | 21.22. Pergolas with Ivy | 24. Lattice double gate | 25. Lattice fence | 26.27. Tools shed | 28. Functional animated fountain | 29. Swing bench | 30. Hedge trimmer | 31. Axe | 32. Handrake | 33. Wheelbarrow | 34. Metal shelf | 35. Planter | 36. Garden border fence | 37.38. Floor decking | 39. Functional animated fountain | 40.42. Rack | 41. Shovel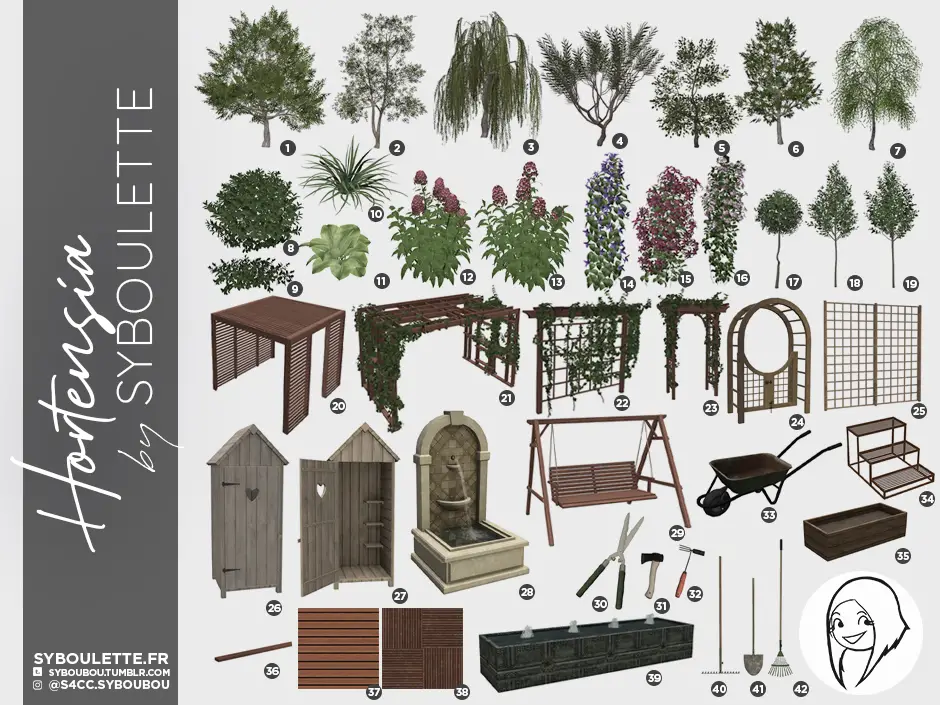 This is a set to build the perfect garden, backyard or terrasse. It contains build items like fence with gate, floor decking, large arbors and pergola, but also functional animated fountains, deco planters, a shed with tools, and a large choice of trees, bushes, plants and flowers.
I spent a looooot of time on this one, but I was also helped by converting some models I bought thanks to the support you're giving me through patreon. Many items like the trees and flowers are not meshed by me, as I wouldn't be that good …and that quick ! Careful though, as all the flowers and invy are high polygons (not the trees and the plants though !)
Includes 42 items
Everything is basegame compatible
Items are optimized: some are low poly, some a bit higher but never more than necessary. Higher items are the both Ivy pergolas, the three small trees  and the 5 flower items.
Please let me know if you encounter any problem with my content or the links !
[Update 09/03/2021: Fixed a texture issue on the willow tree]
[Update 10/12/2021: Fixed a texture issue on the tree V3]