This set has been created to build a warm, classy and luxurious strip club or lounge bar, all in velvet and gold. You'll find everything from wallpapers, doors, fence, stair to bar, stool, seats, lights, panels, room dividers and a lot more ! 38 items in total available in
burgandy red, emerald green, navy blue, beige gold, pale pink, black, white and silver
.
Includes 38 items

The stairs have now perfect landing an doesn't have SSAO shadows issue anymore. The only little bug remaining will be a stretched texture on the 2 tiles width only.

Everything is basegame compatible.

Items are optimized: some are low poly, some a bit higher but never more than necessary. Higher items are the : the seat booth (15k), the curtains (13k) and the chandelier (10k).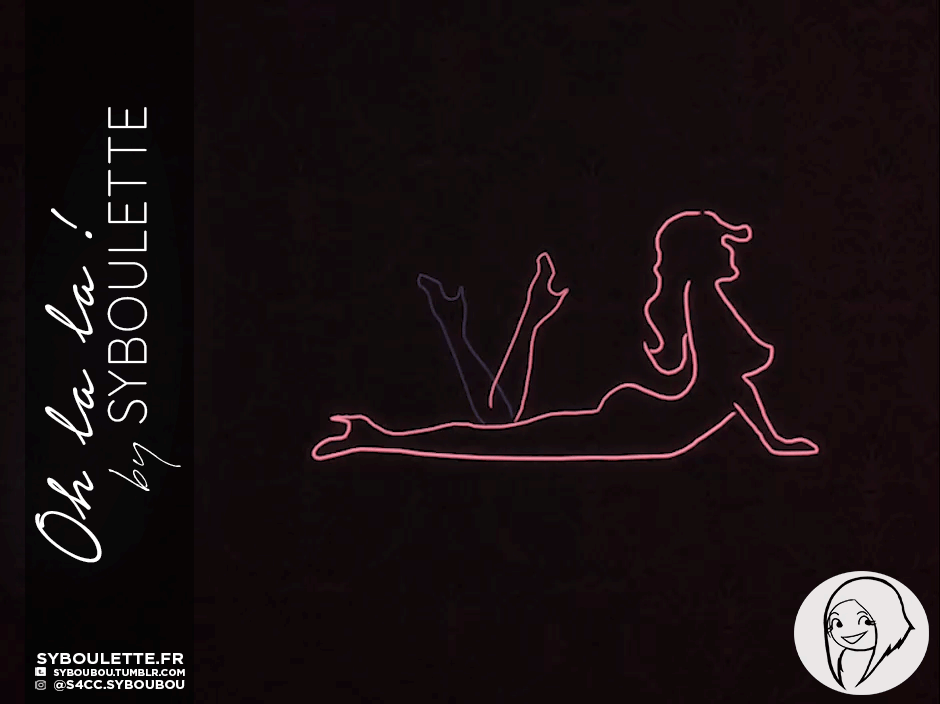 Ohlala Set
A Sims 4 custom content set for a strip club, a lounge bar or a brothel.
Includes 38 items:
1. Seat booth (functional) | 2. Pouf | 3. Art frame | 4. 9 individual alcohol bottles clutter| 5. corner bar (functional)| 6. Shelves| 7. Curtains (right, left, for all 3 heights) |8. Chandelier | 9. Spotlight |10. Stool | 11. Floor light | 12. Semi-circle panel (for all 3 heights) | 13. Room dividers (for all 3 heights) |14. Upholstery door | 15. Carpeted Stairs | 16. Animated neon light | 18. 3 Damask wallpapers